Whether you're looking for somewhere to go walking with your pooch, get some fresh air with the kids or go jogging among greenery, there are more than 30 parks in Ashgrove to get your nature fix.
Here are some of the best parks to explore in one of Brisbane's most beautiful suburbs.
The 6 Best Parks in Ashgrove, Queensland
From creeks to swings, ovals and walking paths, whatever you're looking for in a park, you're sure to find it in Ashgrove.
Best Dog Park
Sunset Dog Park
Why it's best for dogs: Dedicated off-leash areas for large and small dogs, agility equipment.
Why we love this park: Named so because of the view as the sun sets below the foothills of the Taylor Range, Sunset Dog Park is a scenic place to let your furry friends run free. It's one of the district's largest fully fenced dog parks and has dedicated off-leash areas for large and small dogs.
Grab a coffee or some breakfast at one of the nearby bakeries before you head here. Or enjoy a late afternoon outing and watch the sun go down behind the trees while you take a seat and let your dog do its thing. There's even lighting for night play if you find your dog isn't ready to go home.
The park features dog agility equipment and there's a BMX facility to keep your human children happy, too.
Location: 105 Barnett Road
Car Park: A car park is located at the end of Barnett Road. The park is also accessible for pedestrians via Monoplane St.
Amenities: Dog off-leash areas, BMX facility
Best Park for Toddlers or Kids
Dorrington Park
Why it's best for kids: The Enchanted Forest playground
Why we love it: This shady park is a great way to get children of all agesoutdoors. With plenty of swing sets and slides, a jungle gym for all ages and abilities, colourful flowers and toadstools, a giant frog and fantasy play areas, The Enchanted Forest is sure to get their imaginations running wild.
Partly fenced, the playground is small enough to keep an eye on young children, but there's also plenty of space for parents to sit and observe while enjoying a coffee from the nearby Famished on Frasers cafe.
Older children can explore the skate park at the opposite end of the park, play some hoops on the half court or kick a footy on the adjoining oval.
Location: 5 Mirrabooka Road
Car park: Access the car park via the laneway offFrasers Road. There is also parking at the Mirrabooka Road sporting field.
Amenities: Basketball half court, bikeway, picnic area/shelters with electric barbecues, shared pathway, skate park, toilet, water bubbler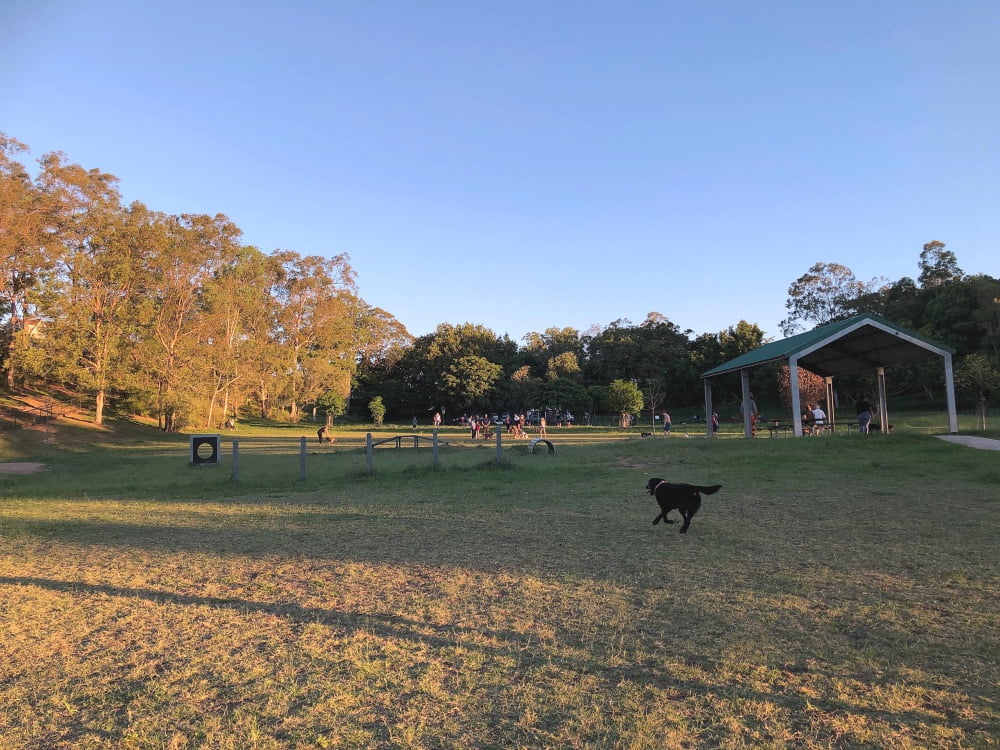 Best Park for a Picnic or BBQ
Corbie Park
Why it's best for barbecues: Electric barbecue and picnic shelter, wildlife haven
Why we love it: With plenty of grass to lay a picnic blanket, Corbie Park is an ideal spot to lay back and look to the sky for a bit of bird watching. Local nature lovers have been busy restoring and rejuvenating the park which lies alongside Enoggera Creek, making it a haven for wildlife.
The park features a cricket pitch and practice net, and a half-basketball court to help you and your friends work off your big barbecue lunch.
Location: 46 Ferneydell Street
Car park: On-street parking on Ferneydell and Corbie streets, or Raleigh Parade
Amenities: Electric barbecue, basketball half court, picnic shelter and playground
Best Park for Running
Ashgrove Sportsground
Why it's best for running: Free, weekly social event
Why we love it: Run, jog or even walk in the Ashgrove Parkrun. Taking place each Saturday at 7am, the run covers a 5km (predominately flat) course on a mixture of running paths and grass.
It's a great way to become involved in the community while participating in a fun form of exercise. Don't forget to register for the event so you can be emailed a copy of your time.
Location: 258 Acacia Drive, (Othaki Road off Yoku Road)
Car park: Parking at sports ground on Acacia Drive
Amenities: Playground, water bubbler, toilets
Best Park for Biking
The Esplanade Park and Ithaca Creek Bikeway
Why it's best for cycling: Customise the length of your ride to suit your ability and the sights
Why we love it: Follow the Ithaca Creek Bikeway from Ashgrove through to Red Hill for a relaxing and mostly shaded ride that follows the creek. Or join on to the Enoggera Creek Bikeway to take your ride further.
Perfect to ride with children, the bikeway crosses through plenty of pretty picnic spots and past some of Ashgrove's best scenery. Stop and rest at a playground, take a barbecue or detour to one of the delightful nearby cafes to make it an all-day adventure.
A bike ride is also a perfect way to see some of Brisbane's most beautiful homes.
Location: Cnr Trout Street and The Esplanade
Best Park for Fishing
Enoggera Reservoir
Why it's best for fishing: Great for learners. Onshore and kayak fishing permitted
Why we love it: As well as being a great place for a paddle, Enoggera Reservoir is an idyllic location to go for a kayak and throw in a line. Bass, dewfish and tilapia species are commonly caught here.
Motorised vessels are not permitted, so it's an ideal spot to take the kids for a quiet afternoon of fishing. Be sure to check in at the Walkabout Creek Discovery Centre before you start for the low-down on the best spots to fish from.
Location: 60 Mount Nebo Road
Car park: Walkabout Creek Discovery Centre, off Mount Nebo Road
Amenities: Information centre and parking at Walkabout Creek Discovery Centre
Like to see more of beautiful Ashgrove?
There is so much more to explore in Ashgrove. Once you've explored the best of Ashgrove's great outdoors, why not head to a neighbouring suburb to see what Bardon's best parks have to offer. 
And if you love what you see when traversing the neighbourhood and you're thinking about making Ashgrove home, talk to two of Brisbane's most experienced real estate agents. Give Grant and Christina at Penrose Real Estate a call today to discuss making the move.