Locals and holiday makers alike are enjoying wide open spaces and natural landscapes more than ever, with restrictions and limited numbers present in many indoor spaces. If you've moved to Bardon - you're in luck - with an abundance of local parks within simple driving or walking distance that offer many different perks. From relaxing scenery to fun and play for the kids, there is good reason that Bardon is known for its parks. Queensland weather allows outdoor enjoyment almost year-round, so why not add these parks to your list for the next time you find yourself needing some fresh air.
Some of the best local parks include: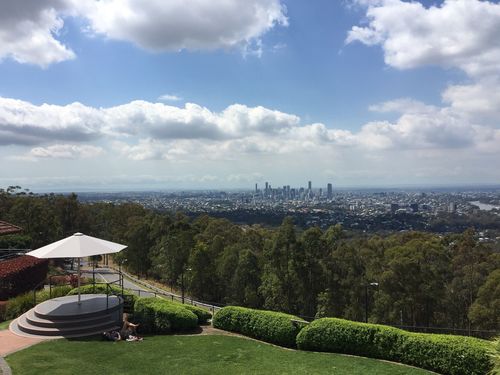 The Mt Coot-tha Reserve (or Mount Coot-tha Forest) is 15 minutes from the CBD and has a section within Bardon, forming Brisbane's largest natural area. With more than 1600 hectares of open eucalypt forest, rainforest gullies and creek lines – Mt Coot-tha Reserve is a popular choice for locals and tourists alike. One of the few parks that are tailored towards adults, this park choice will have you feeling refreshed and optimistic with spectacular views plus waterfalls and creeks to explore. Pack a picnic, bring a camera or book at the restaurant – and your weekend excitement is sorted.
Rainworth Park is one of the smaller options for families to enjoy a BBQ or catch up while the kids enjoy the jungle gym. Perfect for daily exercise in the sunshine, lazing under a tree with a good book or catching up with a friend for coffee – Rainworth Park is a popular choice for the regular park goer to enjoy a low key, quick break option.
Norman Buchanan Park is a perfect option for both fur kids and human kids, with wide open space for dogs to roam, plenty of shade for lounging around and pathways for disability access. The play equipment is perfect for younger children, and there are ample facilities like clean toilets, seating, water and parking to make your day out a simple, fuss free experience.
A popular choice for families, Jubilee Park garners visits from people across Brisbane with its array of play options for kids big and small. Toddlers can enjoy the musical instruments and the spider web swings, and there is a climbing wall for bigger kids. Parents can rest assured that their children are protected by large trees shading the play areas, and there is plenty of open space for picnics, cricket matches and a game of frisbee. This playground is fully fenced, opening to an oval, and has bike paths for easy access and a creek for explorations.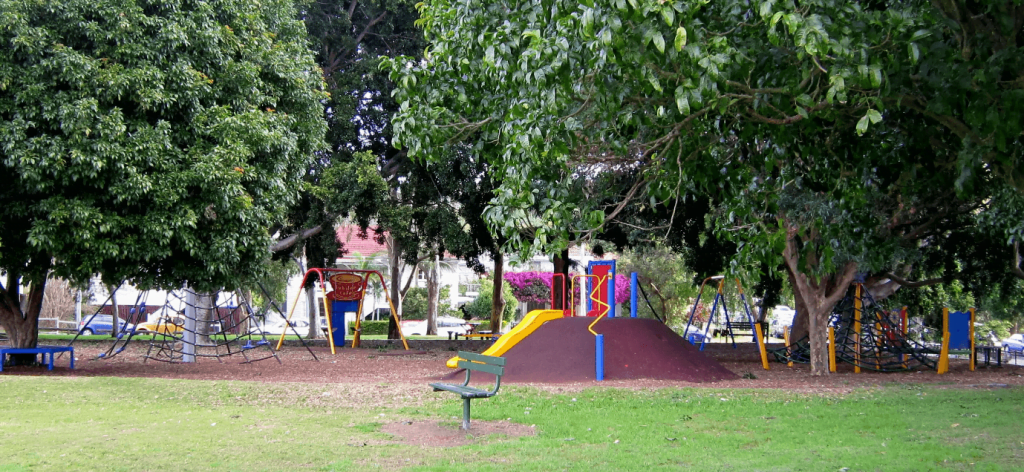 As far as playing opportunity for the kids goes, this park offers a small amount of choice, however it is perfect for those breezy Brisbane afternoons with plenty of bushland to explore and simple walking tracks to navigate. There aren't facilities in this park, and it is relatively untouched – but if you're looking for an enjoyable and relaxing way to get your steps in – this will be the perfect park for you.
Neighbouring the Bardon Esplanade Park, Sunset Park is perfect for the whole family with BMX tracks for the teens and an off-leash dog area for the four-legged. Perfect for a stroll while the kids burn off some energy – Sunset Park lives up to its name and will quickly become a family favourite.
Purtell Park is a popular choice for sporting organisations with rugby league facilities and the Western Suburbs sports centre, and boasts a playground, plenty of car parking, the Purtell Park Bushcare Group and a shared pathway. With plenty of facilities and easy access, Purtell Park is a popular choice for those who love wide open space, kicking a footy around, spotting the occasional wildlife, and watching the sunset in the early evenings.
Helping you to make the most of Bardon
With our depth of local knowledge, we can suggest the best of everything from parks to enjoy to the best schools and public transport options. If you're looking at making the move to Bardon or selling your Bardon home, contact us today to experience the Penrose difference for your property.