Brisbane has a rich history of housing that dates to 1824, with many older style homes still standing today as character homes full of charm. Upon your first drive through Brisbane suburbs such as Paddington, Red Hill or Bardon, you'll notice many different types of home styles.
These home styles range from classic Queenslander homes, cottages in their modernised and renovated glory, and modern new estates with sprawling and bright family homes.
As expert real estate agents in Brisbane, we are well versed in popular Brisbane architecture. Allow us to walk you through some of the beautiful home designs you'll notice throughout Brisbane..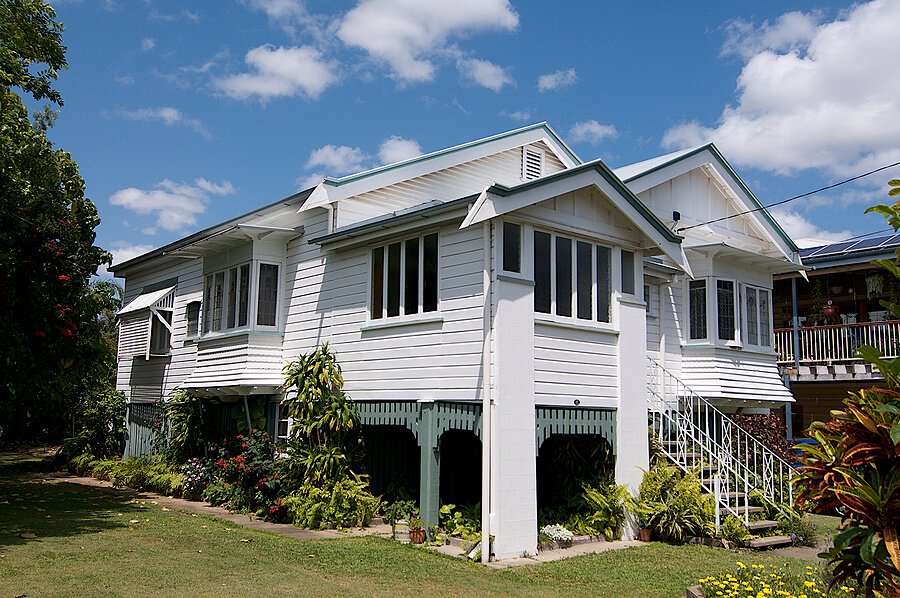 Queenslander Homes
The rich history of housing has had a visual impact on the real estate available in Brisbane. In the early 1800s, soon after selecting Southern Queensland as their place of settlement, residents of Brisbane had to adapt to the weather conditions, using architecture instead of air conditioners and heaters. This adaptation led to the Queenslander style homes that Brisbane is still famous for today.
Traditional Queenslander homes are synonymous with Brisbane, conjuring images of sprawling colourbond roofing, strong timber on stumps, French doors, wrap-around balconies and bougainvillea. These homes were constructed as a response to the commonality of torrential downpours that Brisbane is prone to, allowing residents to enjoy outdoor living no matter the climate.
Additionally, the wide-open space below the homes acts as a natural coolant for those scorching summer days. It is a testament to these structures that many are still standing today in some of Brisbane's most hilly suburbs, featuring fully renovated interiors, a few extra coats of paint, and happy families.
Queenslander homes have become so popular with both Brisbane locals and the Queensland government that legislation was passed in the 1970s to restrict the knocking down or removal of these historical homes. Original Queensland architecture is one of the most iconic in Australia, so it's no surprise that these traditional homes remain one of the most popular choices today.
Brick veneer homes
Brick veneer homes were the Governments response to the post-war population boom in Brisbane that caused a housing shortage. Brick veneer homes are quick and relatively simple to build. This type of home is built with a structural metal frame and an outer layer of brick, resulting in a well-insulated, durable and cost-efficient home.
Flash forward to the early 2000s, and the homes in Brisbane are modernising. New estates are popping up all over the Sunshine State, from North to South Brisbane and knockdown rebuilds are becoming more popular.
Other popular Brisbane home styles
Along with renovated Queenslanders, you will find many different types of homes in and around Brisbane such as...
Modern apartments
Display homes duplicates
Brick cottages
Porch and gable bungalows
Brick veneer homes on cement slabs
Now, it is easy to find a brand-new home, a renovated Queenslander and a stylish block of apartments within the same 5km radius in the suburbs in and around the city. Due to the diversity of choice and the many options for living, Brisbane is a great choice for those wanting the opportunities and thrills of the city, mixed with suburban family friendliness and laid-back living.
The Penrose team can work with you to discover the perfect property for you and your family, whether you're after a renovator's dream, a fully equipped modern home or a riverside apartment.
Alternatively, if you're ready to bring your Queenslander or brick veneer home to life in preparation for sale, the Penrose team can project manage your home staging or renovations to get your property sale ready.
You may be sitting on a pot of gold within the Brisbane sellers' market, and we can help you to maximise profit and sell your home in a record time. Or, if you're a Brisbane investor, Penrose Real Estate manages your rental property with care and attention to detail.
New to property investing? Read our guide on what to expect from your rental's property manager.
To discuss your property needs, contact Grant (0418 747 997) or Christina (0418 737 327) today, and you will be one step closer to stepping over the threshold into your Brisbane lifestyle.